2020-01-25 16:00:49
Power Measuring Kingston A400 480 and Samsung MZ7LN128
In this session I measured a Kingston A400 480 which is much better than the smaller sizes. It's as great as the Patriot Burst 480: Very fast and very low power consumption. Additionally an old (used) Samsung 128 was measured.
Kingston A400 480
480 GB means actually 937703088 sectors.
Idle 0.3 W
Read 0.5 W
Write 0.5 W
Read all sectors: 20m31.041s (371 MiB/s)
Write all sectors: 23m12.412s (328 MiB/s)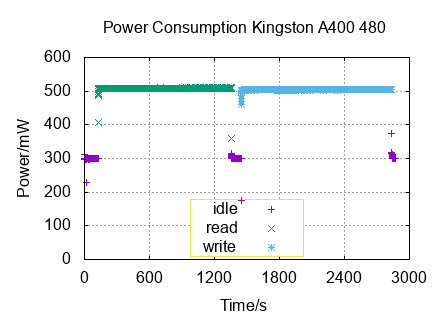 Samsung MZ7LN128
128 GB means actually 250069680 sectors.
Idle 0.28 W
Read 0.97 W, max 1.59 W
Write 1.57 W
Read all sectors: 5m45.429s (353 MiB/s)
Write all sectors: 13m32.761s (150 MiB/s)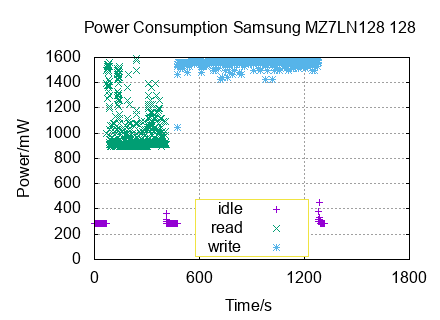 Values overview
Method
Measuring environment is explained in power measuring ADATA SU800. The speed as logged and calculated in latest measurements was simply done by taking the time for reading and writing the whole SSD in relation to its size.
Other measurements