Februar 2020 Archives
2020-02-02 14:31:58
Power Measuring Crucial BX500 240
I ordered a Crucial BX250 because it was several times recommended by german magazine c't (Heise Verlag). It was also part of a recommendation for a DYI low power system "7-Watt-Mini" in c't 24/2019.
Unfortunately I can't understand this recommendation: The SSD has low write transfer rates and has a high power consumption on write. And even its (low) power consumption on read is higher than Corsair, Kingston and Patriot have.
Crucial BX500 240
240 GB means actually 468862128 sectors.
Idle 0.37 W
Read 0.6 W
Write 1.74 W, max 3.3 W
Read all sectors: 10m14.784s (372 MiB/s)
Write all sectors: 38m32.850s (99 MiB/s)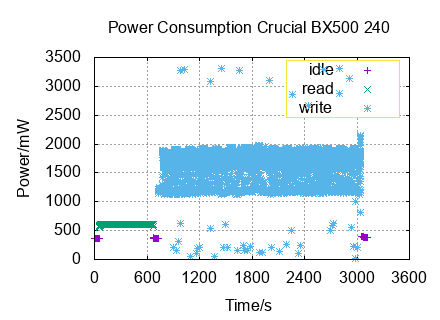 Values overview
Method
Measuring environment is explained in power measuring ADATA SU800. The calculation of speed as logged in latest measurements was simply done by taking the time for reading and writing the whole SSD in relation to its size.
Other measurements